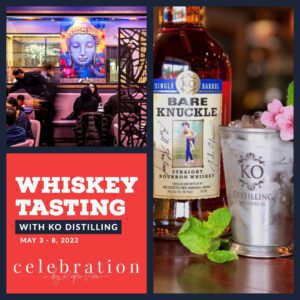 Join us at Celebration by Rupa Vira from May 3 – May 8, 2022, for Whiskey Tasting with KO Distilling. Come enjoy three locally made, high-quality craft spirits by KO Distilling and specialty cocktails.
Enjoy our delicious meals prepared by Chef Rupa and her team and paired with locally made distilled spirits from KO Distilling (Manassas, VA) throughout the week. We will also be preparing specialty cocktails using KO Distilling spirits.
Whiskey Tasting Flight: $20
Three locally made, high-quality whiskey and bourbons.
About KO Distilling
Lifelong friends Bill Karlson and John O'Mara are the K & O in KO Distilling.
Since breaking ground in 2015, Bill and John have turned KO Distilling into a state-of-the-art production facility and local attraction in Manassas, VA.  After their initial offering of unaged craft whiskey and gins in 2015, Bill and John realized their goal of producing their first aged spirit, Bare Knuckle American Wheat Whiskey, in November 2016.
KO is proud to be one of more than 1200 craft distilleries in the US and one of only 50 in Virginia. The distillery attracts visitors seeking locally crafted spirits.