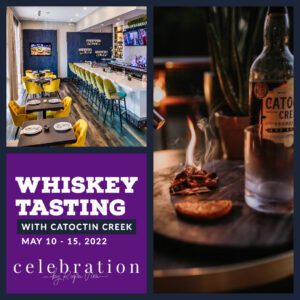 Join us at Celebration by Rupa Vira from May 10 – May 15, 2022, for Whiskey Tasting with Catoctin Creek. Come enjoy three locally made whiskies by the first legal distillery in Loudoun County – Catoctin Creek.
Enjoy our delicious meals prepared by Chef Rupa and her team and paired with locally made whiskies by Catoctin Creek including Virginia's most awarded whiskey – Roundstone Rye throughout the week. We will also be preparing specialty cocktails using Catoctin Creek spirits.
Whiskey Tasting Flight: $20
Three locally made, high-quality whiskey and bourbons. 
Catoctin Creek® was founded by Becky and Scott Harris in 2009 as the first legal distillery in Loudoun County since before Prohibition. We are located in Purcellville, Virginia, in the heart of the Loudoun Valley.  Virginia is the birthplace of American whiskey, and at Catoctin Creek, we faithfully dedicate ourselves to that tradition, producing Virginia's most awarded whisky—Roundstone Rye!
At Catoctin Creek, we believe in high-quality food and spirits. We source our grain and fruit from local sources, free of pesticides and chemical additives that would come through in the spirits we produce. The results are the finest, cleanest spirits possible, with the greatest attention to detail in every single bottle we produce.